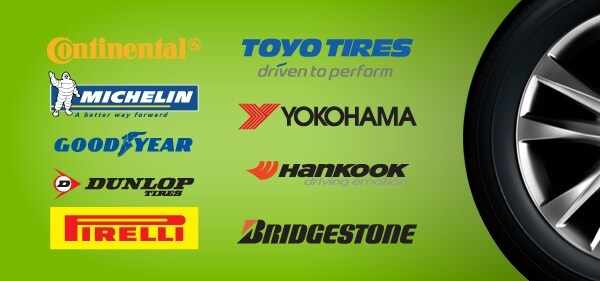 We Specialize in Tires
Tires are an essential component of your driving experience. They provide the four points of contact between your vehicle and the road, and affect acceleration, braking, cornering and the overall safety of your vehicle. At Lindsay Automotive Group, you can be confident that the correct tires will be used on your vehicle. We offer you high-quality tires approved by the auto manufacturer and designed for each model's suspension and performance capability.

While other tire shops may (or may not) offer the same tire brands and basic types of tires, Lindsay knows vehicles and their tire requirements better than anyone else. A common misconception is that tires are more expensive at a dealership. The truth is that Lindsay offers competitive pricing on national brand tires, specifically designed for your vehicle. We carry all OEM tires such as Bridgestone, Continental, Dunlop, Goodyear, Michelin, and Pirelli.




Tire Maintenance

Trust your tire care to the Master Certified technicians of Lindsay Automotive Group. When it comes to knowing your vehicle inside and out, you can always count on us for expert tire advice. The proper performance and effective life of your tires depends on various factors, including the tire type, speeding rating, inflation pressure, wheel alignment, road conditions and your driving habits.



Recommended Services for Healthy & Long-lasting Tires





Tire Inspections:

Routine tire inspections will help ensure that your vehicle retains its superior safety and performance. Routine inspections include checking your tire pressure, inspecting the tread depth and wear patterns and inspecting for any damage from road hazards. Servicing your vehicle's tires and its other mechanical components in one place will save you time and money.



Wheel Alignment:

If your vehicle 'pulls' or 'drifts' while driving your suspension may be out of alignment, which can adversely impact tire wear and performance. If necessary, we can perform a computerized all wheel alignment of the front and rear suspension.



Tire Rotation:

Regular rotation of your vehicle's tires helps prevent uneven wear, improper handling, reduced fuel efficiency and shortened tire life. We recommend rotation of your vehicle's tires at least every 7,500 miles.



Tire Balancing:

As tires wear they can become out of balance, causing vehicle vibration and accelerated tire wear. If necessary, we can computer balance all four wheels & tires.



Nitrogen Inflation:

Nitrogen retains tire pressure better over regular compressed air. This improves the life of your tires as well as the fuel economy of your vehicle.



Road Hazard Coverage:

We offer a nationwide road hazard coverage plan that will cover the cost to repair or replace your tire, up to $399.00, for three years with no proration for due to tread wear. We can add this coverage to the tires already on your vehicle as long as they have at least 6/32 of an inch of tread left.